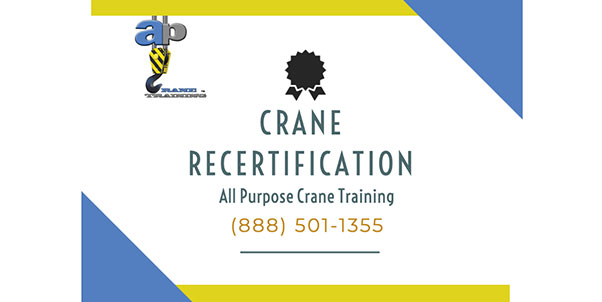 Crane recertification must be done prior to the fifth year of the original crane certification expiration date. Recertification applicants must fulfill all recertification circumstances. The last year is known as the 5th year of certification giving a 12 month period to get recertified before the original certification expiration date. Some circumstance that must be met for recertification are:
Operators must possess a minimum of 1,000 hours of safe operation. Certified as a current crane operator on the type of crane recertifying for. Crane operator applicants need to hold 1000 hours of crane operating experience. If the operator holds experience in the time period of certification there's no need for a retake of the practical exam to recertify.
Operators who do not have proof of at least 1,000 hours are required to pass a written and practical exam. Written and practical exams can be toward the highest level and capacity of the type of mobile crane certification applying for.
All applicants are allowed two tries to pass their recertification exam before the original crane certification expiration date. Applicants who are unsuccessful after two tries must take and pass the regular written exams all over.
Crane Certification Expiration
Crane certification expires after five years but recertification is also required before the expiration date. A driver's license may be mandatory in some areas. Applicants must be physically able to operate a crane. Recertification applicants that may need a practical exam for any reason, nevertheless, must act accordingly before their certification expires. The five-year recertification period starts from the applicant's initial certification expiration date.
There's no grace period after certification has expired. When an applicant's crane certification has expired or lapsed they must retake both written and practical examinations to be certified once again. Recertification applicants have up to one year to their certification's date of expiration to take the recertification written exam. Despite the date of the recertification exam, the original crane certification is good until the expiration date deadline.
Crane Recertification Courses
We provide types of mobile crane recertification courses that can be found with our crane training and recertification school located throughout the United States. Contact AP Crane Training today at (888) 501-1355 or feel free to fill out our contact form.
An All Purpose Safety Training Solutions Company